Gay Portland: The Latest
An investigative documentary about Jeffrey Epstein and how the millionaire sex offender avoided scrutiny is coming to Lifetime.
As a winter storm barreled down on Iowa, Elizabeth Warren's campaign team struggled with whether to scrap a town hall scheduled at the old Maytag headquarters.
Thousands gathered in cities across the country Saturday as part of the nationwide Women's March rallies focused on issues such as climate change, pay equity, reproductive rights and immigration.
Goodbye, your royal highnesses. Hello, life as — almost — ordinary civilians.
At the urging of conservative advocacy groups, Republican legislators in more than a dozen states are promoting bills that focus on transgender young people.
Size matters to President Donald Trump. So much that he exaggerates continually, sometimes spectacularly, the size of what he does.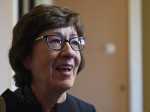 Facing perhaps her toughest reelection fight, veteran Sen. Susan Collins has parachuted into familiar terrain — the heart of a hot-button issue, this time President Donald Trump's impeachment.
Tired of others influencing her career choices, Reese Witherspoon launched her own production company eight years ago. She has been calling the shots on both sides of the camera ever since, often in collaboration with other high-profile actresses.
The leadership at the Recording Academy thought they were in the clear: After the Academy's then-CEO made comments that seemed to belittle women at the height of the #MeToo movement, leaving the organization in a firestorm.
Three U.S. airports will screen passengers arriving from central China for a new virus that has sickened dozens, killed two and prompted worries about an international outbreak, health officials said Friday.
Four members of a family were killed and one injured in a shooting Friday night in a Salt Lake City suburb, local media report.
Oprah Winfrey said Friday that Russell Simmons attempted to pressure her about her involvement with a documentary in which several women detail sexual abuse allegations against the rap mogul.
Three men linked to a violent white supremacist group known as The Base were charged with conspiring to kill members of a militant anti-fascist group, after three other members were arrested on federal charges in Maryland and Delaware.
Technology unleashed baseball's Analytics Era, and now it's holding the sport prisoner.
Many deductibles reset Jan. 1, forcing patients to pay thousands of dollars for care or prescriptions before most insurance coverage starts.
The U.S. government's auto safety agency is looking into allegations that all three of Tesla's electric vehicle models can suddenly accelerate on their own.
Chip and Joanna Gaines' new Magnolia cable network will debut on Oct. 4, with a dozen shows currently in production.
On Tuesday, two Democrats running for president promised to do — each by herself — what Washington has so far proven unable to do: lower the prices of prescription drugs.

An Air Canada flight bound for Australia diverted to Honolulu over the weekend because of a dead passenger.
Evangelist Franklin Graham, who has condemned gays and lesbians as sinners, tried to bring his anti-LGBT beliefs to Key West. He was met with around 150 protesters who support the LGBT community and welcome them with open arms.