Gay Portland: The Latest
The World Health Organization has issued an unusual statement raising questions about whether Tanzania is covering up possible cases of the deadly Ebola virus,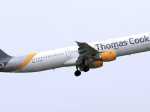 More than 600,000 travelers with Thomas Cook were on edge Sunday wondering if they will be able to get home as one of the world's oldest and largest travel companies teetered on the edge of collapse.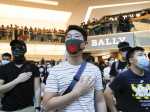 Protesters in Hong Kong trampled a Chinese flag, vandalized a subway station and set a fire across a wide street on Sunday, as pro-democracy demonstrations took a violent turn once again.
After two years on the run with the Islamic State group, Um Mahmoud just wanted to return home.
"Friends" is getting old. Its fans have never been younger.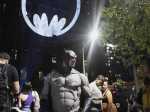 It's no joker. The night is lighting up Saturday around the world with the famous bat signal to mark a special anniversary for Batman.
Iran's powerful Revolutionary Guard is ready for combat and "any scenario," its chief commander said Saturday.
President Donald Trump urged the new leader of Ukraine this summer to investigate the son of former Vice President Joe Biden, a person familiar with the matter said.
The newly upgraded elevator at the Washington Monument stopped working just days after reopening to the public following a three-year renovation project.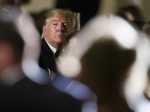 A whistleblower's complaint over President Donald Trump's interactions with a foreign leader is testing the political and practical power Democrats can use against a Republican in the White House.
Very behind the scenes, a whistleblower from the intelligence community voiced urgent concern about a matter involving a conversation between Ukraine's leader and President Donald Trump.
This is the time of year when the cast of HBO's "Veep" would usually be shooting a new season. Now that the show is done, actor Tony Hale says they'll have to settle for getting together at the Emmy Awards.
I regularly hear from people in or near retirement who misunderstand how Social Security works, dramatically underestimate life expectancies or fail to plan for big expenses, such as long-term care or taxes.
North America's skies are lonelier and quieter as nearly 3 billion fewer wild birds soar in the air than in 1970, a comprehensive study shows.

It's not too early to think about your holiday travel. Now is the time to save when booking flights.
A General Motors offer to invest $7 billion in U.S. facilities includes $2 billion from joint ventures and suppliers for new plants that would pay workers less than the top union wage, a person briefed on the matter said.
Chris Sullivan may or may not win at this weekend's Emmy Awards, but it's a sure bet that when he strikes a pose on the red carpet, his unconventional attire will make a statement.
A third of Americans incorrectly believe you can get a sexually-transmitted disease (STD) from a public toilet seat, according to new research.
The second annual edition of the Carnaval des Couleurs will take pace Oct. 7 - 9. It's a great event that brings together the multi-ethnic and LGBTQ communities of Montreal at the Grande-Place of the Complexe Desjardins, with free access to everyone!

Always a pillar of the house music scene for gay and gay-friendly participants, this festival represents a true cult that continues to attract Canadian, American and European fans.