Top Story
Susan Wojcicki, the head of YouTube, tendered her apologies to the GLBTQ community after widespread outrage following a gay journalist's documentation of what he says is haras...
Alarmed by President Donald Trump's willingness to accept foreign dirt on a political opponent, House Democrats are accelerating their efforts to strengthen election security ahead of the 2020 campaign.
Archaeologists have unearthed the earliest direct evidence of people smoking marijuana from a 2,500-year-old graveyard in western China.
The virtual currency bitcoin is responsible for the same amount of carbon dioxide emissions as a city like Las Vegas or Hamburg and efforts to reduce its climate footprint should be considered, researchers said Thursday.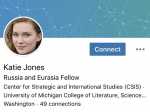 Katie Jones sure seemed plugged into Washington's political scene. But it seems she never existed; the persona was seemingly part of a vast army of phantom profiles used by spies.
Upcoming sci-fi open world game "Cyberpunk 2077" received lots of good press at the recent Electronic Entertainment Expo (E3) last weekend, but one piece of in-game artwork is drawing criticism from fans for possible transphobia.