Top Story
President Donald Trump and his team are distorting the facts in explaining the administration's decision to stop California from setting its own emission standards for cars an...
North America's skies are lonelier and quieter as nearly 3 billion fewer wild birds soar in the air than in 1970, a comprehensive study shows.
Scientists say they've deciphered features of the skull and some other details of a mysterious, extinct cousin of Neanderthals by analyzing its DNA.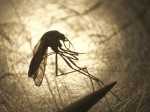 The number of U.S. deaths and illnesses from a rare mosquito-borne virus are higher than usual this year, health officials report.
A diver and maritime history buff has found two schooners that collided and sank into the cold depths of northern Lake Michigan more than 140 years ago.
Facebook said Friday that it has suspended "tens of thousands" of apps made by about 400 developers as part of an investigation following the Cambridge Analytica scandal.