Top Story
Concern about dwindling native insect populations is one reason why. And new technology has made it easier to log insect sightings and become part of wide-reaching "citizen-sc...
For the past 290 million years, large asteroids have been crashing into Earth more than twice as often as they did in the previous 700 million years, according to a new study in Thursday's journal Science.
The nation's top health authorities agree: Teen vaping is an epidemic that now affects some 3.6 million underage users of Juul and other e-cigarettes. But no one seems to know the best way to help teenagers who may be addicted.
Sunday night, the Earth will slide directly between the moon and the sun, creating a total lunar eclipse. There won't be another until 2021.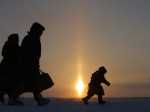 Scientists say the world's permafrost is getting warmer, with temperatures increasing by an average of 0.3 degrees Celsius (0.54 Fahrenheit) over a decade.
Facebook said Thursday it removed hundreds of Russia-linked pages, groups and accounts that it says were part of two big disinformation operations, in its latest effort to fight fake news.