'Moscow Mitch's' Very Bad Week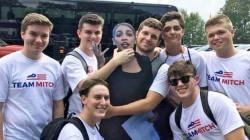 Mitch McConnell (aka Moscow Mitch) is having a very bad couple of weeks.
It began after a Washington Post columnist Dana Milbrank wrote a column criticizing McConnell not forwarding legislation that would have created election security legislation in response to the 2016 cyber-attacks by Russia. In his July 26 column entitled "Mitch McConnell is a Russian asset," "Milbank accused McConnell of being 'unpatriotic' and 'doing [Putin's] bidding' by blocking election security legislation," wrote the Huffington Post.
On that morning MSNBC host and former Republican congressman Joe Scarborough nicknamed McConnell "Moscow Mitch" and said of the Senate majority leader. "He is aiding and abetting [Russian President Vladimir] Putin's ongoing attempts to subvert U.S. democracy, according to the Republican FBI, (and) CIA" Scarborough said on MSNBC's "Morning Joe." "All Republicans are saying Russia is trying to subvert U.S. democracy, and Moscow Mitch won't even let the Senate take a vote on it. That is un-American."
Scarborough's nickname hit a nerve with the usually thick-skinned McConnell who responded the following Monday. "I was called unpatriotic, un-American and essentially treasonous by a couple of left-wing pundits on the basis of bold-faced lies," McConnell said in a speech on the Senate floor, denouncing the 'shameful' attacks as 'modern-day McCarthyism.'"
This was before the Senate and House went on a 6-week hiatus. Then this past weekend, things got worse for McConnell. First, he made a rare public appearance and was booed, the Daily Kos reported.
Second, as CNN reported, he fractured his shoulder. ""This morning, Leader McConnell tripped at home on his outside patio and suffered a fractured shoulder," David Popp, McConnell's communications director, said in a statement. "He has been treated, released, and is working from home in Louisville."
Then, amidst calls for him to bring the Senate back into session to deal with the gun crisis after the El Paso and Dayton shootings, McConnell had a social media gaffe when he sent out a tweet on Saturday afternoon with a graveyard filled with crosses and the words "RIP" for his current and previous political opponents, including Democratic candidate Amy McGrath, who his challenging him for his seat in 2020.
If that wasn't bad enough, a photo emerged on Monday that featured a number of young men wearing 'Team Mitch' T-shirts surrounding a cardboard standee of Alexandria Ocasio-Cortez with one man holding her neck in a choke hold.
Ocasio-Cortez responded on Twitter Monday night, the New York Post reported.
"Hey @senatemajldr — these young men look like they work for you," the freshman congresswoman tweeted.
"Just wanted to clarify: are you paying for young men to practice groping & choking members of Congress w/ your payroll," she asked, "or is this just the standard culture of #TeamMitch?"
McConnell spokesperson responded today, the Post reported:
"Team Mitch in no way condones any aggressive, suggestive, or demeaning act toward life-sized cardboard cutouts of any gender," said McConnell campaign spokesman Kevin Golden.
"Golden insisted the men — all wearing "Team Mitch" T-shirts — aren't affiliated with the Kentucky Republican," writes the Post.
"These young men are not campaign staff, they're high schoolers and it's incredible that the national media has sought to once again paint a target on their backs rather than report real, and significant news in our country," Golden said.
Comments on Facebook