'No Homo Promo' Health Education Law Repealed in Arizona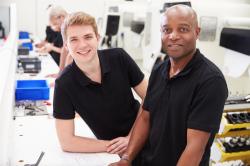 Only a couple of months ago it seemed that Arizona's "no homo promo" law forbidding teachers from portraying same-sex relationships or LGBTQ people in a positive light was hopelessly entrenched despite being long outdated and stigmatizing LGBTQ youth.

But in the wake of a lawsuit brought by advocacy groups, the state's lawmakers moved swiftly to repeal the 1991 legislation, which was introduced during the peak of the HIV/AIDS crisis, the AP reported earlier this week.

The state's governor, Doug Ducey, was not far behind, reported KTAR News. Arizona House voted 55 -5 on April 10 to approve a law that included an amendment to repeal the 1991 legislation's anti-gay language; the state Senate followed suit on April 11, after which Ducey promptly signed the measure into law.

Ducey then sent out a tweet in which he called the move a "common sense solution," and thanked lawmakers for "getting it done in a bipartisan manner."


Just signed #SB1346. Thank you @TJShopeforAZ for your leadership on this common sense solution, and for getting it done in a bipartisan manner.— Doug Ducey (@dougducey) April 11, 2019
The original law forbade any teaching in public schools around HIV/AIDS that could have been construed as "promot[ing] a homosexual lifestyle," the AP story reported, and also banned any depiction by teachers that would "portray... homosexuality as a positive alternative lifestyle," with a further provision outlawing any suggestion "that some methods of sex are safe methods of homosexual sex."
The AP story reported that the suit against the law took issue with what it characterized as the law being designed to tell students "that there is something so undesirable, shameful, or controversial about 'homosexuality' that any positive portrayals of LGBTQ people or same-sex relationships must be explicitly barred."
KTAR News reported that Kathy Hoffman, Arizona's Superintendent of Public Instruction, hailed the legislative outcome, noting that "after nearly three decades of this law placing stigma on our #LGBTQ community, the repeal sends a signal to every student, teacher, and family in Arizona that they are welcome in our schools — regardless of who they are and who they love."
Kilian Melloy serves as EDGE Media Network's Assistant Arts Editor. He also reviews theater for WBUR. His professional memberships include the National Lesbian & Gay Journalists Association, the Boston Online Film Critics Association, The Gay and Lesbian Entertainment Critics Association, and the Boston Theater Critics Association's Elliot Norton Awards Committee.
Comments on Facebook