1 thru 10 of 26661 Stories
President Donald Trump's lawyer Rudy Giuliani left open Sunday the possibility that Trump and former personal attorney Michael Cohen might have discussed Cohen's congressional testimony.
A major winter storm brought some of the coldest temperatures of the season and covered a large swath of the country in snow as it wreaked havoc on air travel and caused slick road conditions throughout New England Sunday.
Justin Timberlake has pulled some sunshine from his pocket for the patients at a Texas children's hospital.
A diocese in Kentucky apologized Saturday after videos emerged showing students from a Catholic boys' high school mocking Native Americans outside the Lincoln Memorial after a rally in Washington.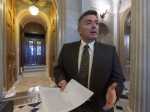 Republican Sen. Cory Gardner helped mastermind the GOP's midterm strategy of pushing Senate candidates closer to President Donald Trump.
In a bid to break the shutdown stalemate, President Donald Trump offered to extend temporary protections for young people brought to the U.S. illegally as children and those fleeing disaster zones in exchange for his long-promised border wall.
The first tangible signs of movement may be emerging in the impasse that has shut down the government for weeks.
The Sackler family owns Purdue Pharma, the privately held drug company that has made billions from OxyContin, and Sacklers hold most of the seats on the board.
Multiple outlets have reported that Sony Music has dropped embattled R&B star R. Kelly from its roster.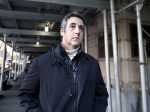 Special counsel Robert Mueller's office has issued a rare public statement disputing the accuracy of BuzzFeed News' report that said President Donald Trump's former attorney told Mueller that the president directed him to lie to Congress.
1 thru 10 of 26661 Stories