Gay Portland: The Latest
France and husband, Rob, welcomed their first baby, son Ismail France, via surrogate on Saturday, July 10.
As the "Pass Over" makes the transition to its first preview on Broadway Wednesday, the cast and crew offered their takes on the historic moment, from the first meet-and-greet to the first costume fittings and first rehearsal.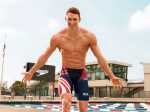 Olympian gold medal winner Ryan Murphy found himself in the midst of a controversy over the weekend when comments he made about doping went viral and led to him, family members, and his girlfriend receiving comments that were "not okay."
Tennessee was hit Tuesday with a second legal challenge aimed at overturning a slate of bills targeting transgender people that Gov. Bill Lee signed into law earlier this year.
An investigation into Democratic New York Gov. Andrew Cuomo found that he sexually harassed multiple current and former state government employees, state Attorney General Letitia James announced Tuesday.
Is Matt Damon suffering from a case of "cognitive twisties?" Coined by Simone Biles as "literally" being unable to "tell up from down," Damon's latest statement concerning his usage of the 'F-slur' only made things more confusing.
Released in late July, the company's deep glute massage video has been viewed more than 355,000 times. See why.
Dolly Parton revealed she used some of the royalties she received from Whitney Houston's cover of her song, "I Will Always Love You," to invest in a Black neighborhood.
All soaps are not created equal. Whether you're engaging in contact sports, using gym equipment or simply on the go, your skin is constantly on the defense against bacteria.
San Francisco's iconic cable cars were chiming their bells and rolling again on the city's hills Monday after being sidelined for 16 months by the pandemic.
Sen. Lindsey Graham has become the first senator to disclose a breakthrough infection after being vaccinated against the coronavirus, saying Monday he is "very glad" he received the vaccine, without which his current symptoms would be "far worse."
Of all the exploitation films to come out of Canada, the 1983 thriller "Siege" may be one of the most underrated. Severin Films gives this nasty, mean film a terrific new presentation.
There is a growing national movement — bolstered by tens of billions of dollars in federal rental assistance — to find ways to keep millions of at-risk tenants hurt by the coronavirus pandemic in their homes.
Despite the social distancing of the past 18 months, the use of dating apps in general has surged as people sought connections amid their isolation and dating apps are responding by rolling out new features.
The tattered myth that gays are generally better off than their heterosexual peers took another hit with a new study that reconfirms gay and bisexual men earn less than straight men do.
Several companies sell vehicle history reports, promising to reveal the past of any given vehicle. In this article, we'll take a look at the two largest vehicle history report providers.

Celebrity dermatologist Dr. Alex Khadavi was arrested and booked for felony criminal threats. The arrest came as a result of a homophobic rant that Khadavi made in a posh LA condo lobby on July 7.
A day after it recorded the most new daily cases since the start of the pandemic, Florida on Sunday broke a previous record for current hospitalizations set more than a year ago before vaccines were available.
Air travel in the U.S. is hitting new pandemic-era highs, and airlines are scrambling to keep up with the summer-vacation crowds.
Lollapalooza returned to Chicago in Grant Park to celebrate 30 years as a music festival. LGBTQIA+ representation was not only in the crowd, but the performers as well.