Gay Portland: The Latest
A married couple say they were told to leave a local eatery because a worker didn't like the fact that they were gay. The men vowed not to return as customers, but they did have a rally just outside a couple of days later.
South Africa's trailblazing Black food writer Dorah Sitole's latest cookbook was widely hailed in December as a moving chronicle of her journey from humble township cook to famous, well-traveled author.
Alabama's policy requiring a transgender person to undergo full gender reassignment surgery before they can change the sex on their driver's license is unconstitutional, a federal judge ruled Friday.
Ex-"Bachelorette" hunk Josh Seiter came out as pansexual recently.
President-elect Joe Biden has tapped Pennsylvania Health Secretary Rachel Levine to be his assistant secretary of health, leaving her poised to become the first openly transgender federal official to be confirmed by the U.S. Senate.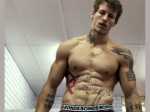 OnlyFans has been a boon for some during the Pandemic, including Aussie model Alec Nysten. But the 28-year old is seeing his revenue stream compromised by leaked pics.
'RPDR13' contestant Joey Jaye posted a pic with a curious tattoo on his arm with X-rated connotations.
Armie Hammer has ended his very bad week with the shocking contents of his secret Instagram being leaked.
JPMorgan Chase is donating $5 million to LGBTQ organizations that have been impacted by the COVID-19 pandemic.
After rumors circulated for days that Lincoln Project co-founder John Weaver had sent inappropriate DMs to young men, the Republican operative came out as gay.
After a chaotic administration that's been disastrous for LGBTQ rights, uncertainty and realism are tempering expectations for Biden-Harris results.
From now on, you may decide that the only way to watch a John Carpenter horror film is in Ultra 4K high definition.
The head of France's state rail company has sounded the alarm over the future of the Eurostar train service, which connects the U.K. with continental Europe and has been hurt badly by the halt to travel during the pandemic as well as Brexit.
The race against the virus that causes COVID-19 has taken a new turn: Mutations are rapidly popping up, and the longer it takes to vaccinate people, the more likely it is that a variant that can elude current tests, treatments and vaccines could emerge.
The year that brought so many surprises is shaping up to be a surprisingly good one for investors, and that's a timely reminder for 2021.
Trucks and SUVs will dominate the news in 2021. Edmunds' experts cover the five they think will make the biggest splash.
Watch the latest Prada menswear collection, featuring the second collaboration between Miuccia Prada and Raf Simons.
Coronavirus deaths are rising in nearly two-thirds of American states as a winter surge pushes the overall toll toward 400,000 amid warnings that a new, highly contagious variant is taking hold.
There is a ray of light for Parisians who, like the rest of the French nation this weekend, begin to observe a tightened coronavirus curfew: The famous Rodin Museum sculpture gardens is reopening to visitors.
The term "sexual fluidity" has come under scrutiny as researchers further explore the nuances our sexual expression, attraction and behavior.