Gay Portland: The Latest
Much of what makes Washington, DC an attractive destination for members of the LGBTQ community to call home also makes it an ideal getaway for LGBTQ travelers — here are some of their favorite picks.
Caeleb Dressel won his third gold medal of the Tokyo Olympics with a world record in the 100-meter butterfly Saturday.
A nationwide eviction moratorium is set to expire Saturday after President Joe Biden and Democrats in Congress worked furiously but ultimately failed to align on a long-shot strategy to prevent millions of Americans from being forced from their homes.
President Donald Trump urged senior Justice Department officials to declare the results of the 2020 election "corrupt" in a December phone call, according to handwritten notes from one of the participants in the conversation.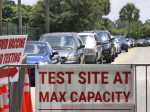 Florida's coronavirus cases jumped 50% this week, the state Health Department reported Friday, continuing a six-week surge that has seen it responsible for 1 in 5 new infections nationally, becoming the outbreak's epicenter.
Millions of people in the U.S. who haven't gotten the COVID-19 vaccine could soon have a new reason to roll up their sleeves: money in their pockets.
The Walt Disney Company has joined other large companies in requiring employees to get vaccinated against COVID-19.
"Better Call Saul" star Bob Odenkirk said Friday that he "had a small heart attack" but will "be back soon."
Keiyan Lonsdale of "The Flash," Sarah Hyland of "Modern Family," and Dylan Sprouse of the recent film, "After We Collided" will all have lead roles in the comedy.
Scientists who studied a big COVID-19 outbreak in Massachusetts concluded that vaccinated people who got so-called breakthrough infections carried about the same amount of the coronavirus as those who did not get the shots.
A judge on Friday said he would not kick one of Jussie Smollett's attorneys off the case even though he believes the attorney spoke to two men the actor allegedly hired to help him carry out a staged attack.
Broadway theatergoers will need to prove they've been vaccinated for COVID-19 and masks will be required when theaters reopen in the coming weeks, producers announced Friday.
For the LGBTQ community, safety and security have never been more critical, but not all smart security systems are created equal. Here's what you should be looking for to protect your home and property.
Privacy watchdogs — the human kind — warn that police are secretly rushing to buy the robots without setting safeguards against aggressive, invasive or dehumanizing uses.
The tattered myth that gays are generally better off than their heterosexual peers took another hit with a new study that reconfirms gay and bisexual men earn less than straight men do.
Several companies sell vehicle history reports, promising to reveal the past of any given vehicle. In this article, we'll take a look at the two largest vehicle history report providers.
The the Roarin' 20s have begun! New York City's queer hub — Hell's Kitchen — bursts back to life with a slate of new LGBTQ bar openings that promises to revitalize the neighborhood for locals and tourists alike.
Provincetown is being called the canary down the coal mine in understanding how virulent the Covid Delta variant has become.
Nearly one in five flight attendants say they have witnessed physical incidents involving passengers this year, and their union is calling for criminal prosecution of people who act up on planes.

The idea that sexual desire might be understood as mere preference — like a favorite ice cream flavor — is reductive. "Just a preference" is a familiar and reflexive shield for what experts call racialized sexual discrimination.