Topics :: Chicago Gay Pride
Pride Without Prejudice/Reclaim Pride March kicked off at the Belmont Red Line el station in Chicago. Speakers included Antonio Gutierrez, Russia Brown and Samer Owaida, among others.
The 50th annual Chicago Pride parade was canceled due to severe weather. Our EDGE photographer managed to capture some moments before the rain stopped the floats from moving forward.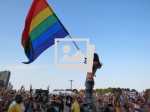 The day before the Pride Parade, Chicago celebrated the 50th anniversary of Pride with Pride in the Park, bringing people together in the heart of the city, with performances by Iggy Azalea, Steve Aoki and Tamar Braxton.
PrideFest took over Boystown in Chicago for two days on June 22nd and 23rd, leading up to the Pride parade the following weekend. Vendor booths, live music and unpredictable weather were all part of the rainbow of fun.
Chicago's 49th annual Pride Parade had LGBTQ supporters coming out and enjoying a sunny day full of rainbows.
Pride Fest heated up Boystown with record numbers and high temperatures. Fashion shows, a variety of vendor booths, and talented performers were all part of the fun.
Chicago Pride Parade turned forty eight this year and celebrated with over a million attendees from Chicago and the surrounding areas.
North Halsted Business Alliance presented Chicago Pride Fest from Addison to Grace with performer Kristine W among others.
It was a beautiful day to celebrate Pride and to enjoy the 47th annual Chicago Pride Parade.
Whether you call it the Windy City, the City of Big Shoulders, or the center of the universe for cornfed Midwestern boys, Chicago rolls out the rainbow carpet for Gay Pride and beyond.