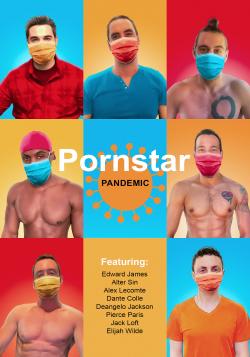 Breaking Glass Pictures has acquired Worldwide rights to the documentary "Pornstar Pandemic: The Guys", an intimate examination of LGBTQ adult actors and their lives during the COVID-19 quarantine. Directed by adult director Edward "EJ" James, and executive produced by Breaking Glass CEO Rich Wolff, Pornstar Pandemic: The Guys will arrive July 28 on DVD and all major VOD platforms.

The entire world is shut down due to Cover-19. The adult film industry is closed for an indefinite time period and its actors, directors and production staffs are left idle. Adult film director and producer Edward James "EJ" and independent film distributor Rich Wolff decide to make a documentary based on what adult entertainers do when they are not in front of the camera. Pornstar Pandemic investigates the daily lives and routines of some of gay porn's biggest and newest names, covering all angles of the gay porn scene from gay to bi-sexual to gay for pay.

Pornstar Pandemic: The Guys features three of the top adult stars in the industry, quarantined and living their lives in stasis. Follow along with Dante Colle, Pierce Paris, DeAngelo Jackson, as well as two newcomers (no pun intended) Elijah Wilde and Jack Loft. The doc features the actors during their daily activities, along with their personal thoughts on the current state of the industry and their own roles in it, how the shutdown has affected their lives and livelihood, and what's next once everyone can return to work.



Enter this contest
If you already have an account with EDGE, all you need to do is log in; we'll pull your address information from your account and simply ask you to verify it. If you do not yet have an account with us, register now! It's easy and free, and you'll never have to type in your personal information again. If you prefer to enter this information manually, you can use the manual entry link below.
Register
Click here for contest rules.
* Please be aware that creating multiple accounts for the same person will disqualify you.