Recovery Unplugged's Michael Alvarez shares tips about how to stay sober during Pride or any time of year by staying connected to our support systems.
Self-proclaimed workhorse queen Mrs. Kasha Davis joined EDGE and groundbreaking addiction treatment center Recovery Unplugged for an intimate conversation about her sobriety and how drag has empowered her journey.
Model, triathlete and best-selling author Mark A. Turnipseed joins EDGE for an intimate and revealing conversation about how fitness helped him get and stay sober.
The science behind music's therapeutic qualities has led to the creation of the Vibe Room, the latest innovation from the groundbreaking addiction treatment center Recovery Unplugged.
Groundbreaking treatment center Recovery Unplugged has opened one of the few non-gender sober living spaces in the country.
Groundbreaking national addiction treatment organization Recovery Unplugged looks ahead to 2021 with more innovative programs and continued focus on the LGBTQ community.
"There's a split second when I wake up in the morning when I forget that I'm not waking up dope sick," says recovering addict Jonah Brooks. "Everything about my life is going so well, and it's just more beautiful than I ever thought possible."
The nationally recognized treatment center recently kicked off the "I ____ Sober" movement as a way to celebrate those who are living their best lives without the influence of drugs and alcohol.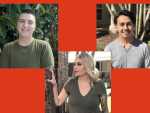 The LGBTQ community is particularly hard-it when it comes to alcohol and substance abuse. EDGE traveled to Recovery Unplugged's flagship location to document what makes its treatment program a success.
It was critical for Kasi to find a program that would not only help him get clean, but also respect and support him through his journey as a transgender man.