Gay Portland: The Latest
French fashion designer Manfred Thierry Mugler, whose dramatic designs were worn by celebrities like Madonna, Lady Gaga and Cardi B, has died.
The actor playing Harry Potter has been fired from the Broadway production of "Harry Potter and the Cursed Child" following a complaint by a co-star about his conduct.
French fashion designer Manfred Thierry Mugler, whose dramatic designs were worn by celebrities like Madonna, Lady Gaga and Cardi B, has died. He was 73.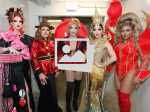 Mad Angel Entertainment presented the 49th celebration of the Miss Gay America pageantry at the Robinson Theatre in Little Rock, Arkansas. Congratulations to Dextaci who was crowned Miss Gay America 2022.
Stormy Daniels, the porn star who catapulted herself and Michael Avenatti to fame with lawsuits against former President Donald Trump, will have a starring role in court beginning Monday.
After spending one weekend in second place, "Spider-Man: No Way Home" proved it still had some fight left. Sony's superhero juggernaut swung back to first place in its sixth weekend in theaters.
Bill Maher returned for his 22nd season this past Friday and continued his move to the right. This past week he offered an absurd meme about President Joe Biden 'gay marrying' President Obama to stay in office.
Olympian Adam Rippon looks back at the 2018 Games.
Jon Vaughn's small blue-and-white camper has been parked outside the home of the University of Michigan's president since early October, and he says it won't be moving anytime soon.
Residents of a Pennsylvania county were warned Saturday not to approach a monkey that was missing after a crash involving a pickup that was towing a trailer taking about 100 of the animals to a lab.
Leaders of the Arizona Democratic Party voted Saturday to censure U.S. Sen. Kyrsten Sinema Sinema, citing "her failure to do whatever it takes to ensure the health of our democracy.''
"Journey to Shiloh" boasts an ultimate "war sucks" message, a cast of six hot young dudes on horseback and a campy opening and closing song. Oh, and James Caan. The first three are enough for me to recommend it!
Amazon says it plans to open a clothing store in a Southern California mall later this year, a first for the online behemoth and a fresh challenge for already struggling traditional retailers.
A consumer group claimed to have found that Tinder is charging gay and lesbian users more — by as much as nearly 50% — but has since retracted that accusation.

For the first time in half a year, families on Friday are going without a monthly deposit from the child tax credit.
The experts at Edmunds have compiled a list of the five hottest vehicles that will arrive at dealerships in the next six to nine months.
It was a fashion history-making moment in Paris for Kenzo on Sunday as it unveiled the debut for its first Japanese designer since house founder Kenzo Takada.
Three studies released Friday offered more evidence that COVID-19 vaccines are standing up to the omicron variant, at least among people who received booster shots.
It is reported that there has been a death onboard the Atlantis Events' 30th Anniversary Cruise on Royal Caribbean's Oasis of the Seas, but such deaths are not out of the ordinary.
Baby talk is cute when grown-ups dote on babies. But when adults converse with each other? Not so much. So why do couples do it?