'Will & Grace' Sets Series Finale & Retrospective Special Air Date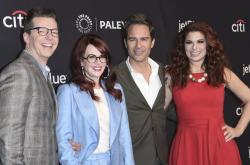 "Will & Grace" is coming to an end...again!

Deadline is reporting that the long-running LGBTQ sitcom has set the air date for its series finale. NBC will be showing the last episode of "Will & Grace" on April 23 at 9 p.m. A half-hour special that looks back at the comedy's legacy will precede it.

The special will be hosted by Eric McCormack, who plays Will, and the episode will feature reactions from "Will & Grace" fans and celebrities on the show. They'll share stories about what the comedy means to them and the special will reflect on some of the show's biggest moments over the years, including the first same-sex male kiss on network TV. Elton John and sitcom legend Norman Lear will appear on the special.

Deadline also has the synopsis is the series finale, called "It's Time":

With the apartment packed up, Will (McCormack) is determined not to reminisce about his life in the city or his ex, McCoy (guest star Matt Bomer). Grace (Debra Messing), on the verge of giving birth, keeps having false alarms of going into labor. Karen (Megan Mullally) goes to the top of the Statue of Liberty to get closure with her ex-husband. Jack's (Sean Hayes) dream of taking a bow on a Broadway stage becomes a very real possibility. Minnie Driver and Brian Jordan Alvarez guest star.

"Will & Grace" originally ran for six seasons from 1998 through 2006 before being rebooted for a ninth season in 2017. In total, there have been 11 seasons of the sitcom with 246 episodes. It earned 91 Emmy nominations over the years, with 18 wins, including Outstanding Comedy Series in 2000. All four of its main cast members have won at least one acting Emmy for their roles on the show.
Comments on Facebook