Watch: Opening Credits for 'American Horror Story: 1984' Get the 80s Retro Treatment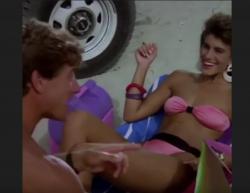 Stranger things are happening on "American Horror Story: 1984."

The opening title credits are a throwback to the decade the ninth season of the FX anthology series is set. The creepy theme song used in almost every season has been transformed into a synth-y song a la John Carpenter. The graphics too are inspired by early 80s TV shows; neon font and cheesy graphics.

The clip also looks like a VHS recording as images of Ronald Regan, aerobics workouts, video games, cassette and more 80s iconography pop up. But this wouldn't be "AHS" without some spook! The video is cut with quick images of gore — blood dripping and stabbing evoking 80s slasher films.

"AHS: 1984" begins on Sept. 18. Check out the official trailer here and watch the new opening credits below.
Comments on Facebook