Review: 'Chaos Walking' is Entertaining - and Forgettable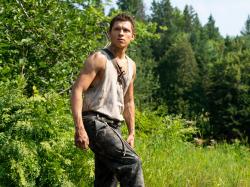 Doug Liman's sci-fi thriller "Chaos Walking," based on the popular book series written by Patrick Ness ("A Monster Calls"), finally arrives in theaters after years of delays. Starring Tom Holland ("Cherry") and Daisy Ridley ("Star Wars"), the film is a sort of dystopian western that takes place on a distant planet where humans have settled.
The problem with this planet is that as soon as anyone enters its atmosphere, all thought can be heard (and seen) by everyone around them. But only men's thoughts. Women's thoughts can't be heard. This causes some conflict, but not as much as when the inhabitants of the planet decide to wipe out all of the women, leaving the men to fend for themselves and eventually die out.
Todd (Holland) is a young man with a faithful dog companion and two adoptive fathers (Demian Bichir and Kurt Sutter). When a girl (Viola) lands on the planet after her ship crashes and kills everyone else on board, Todd stumbles across her. Having never seen a woman before, he is taken aback — not only because she's a living, breathing (and cute) girl, but because her thoughts (called "noise") can't be heard. When his town becomes aware of her, they are immediately threatened, and her life is put in danger. Knowing his son must protect her, Todd's father Ben advises him to go to a distant settlement, where he hopes they will find safety.
So off Todd and Viola go, learning about each other, encountering the scary inhabitants of the planet, and finally finding the town they are in search of. But it isn't what they expected.
Ultimately, Viola wants to contact her main ship to get off of the planet, and Todd just wants to protect her. Well, that and kiss her.
Meanwhile, Mayor Prentiss (Mads Mikkelsen playing bad — what?) and his son Davy (Nick Jonas) head after the two with a host of men, all riding horses as if back in the mid-1800s. They are joined by their local fire-and-brimstone preacher, Aaron (David Oyelowo), who seems to hate women and will stop at nothing to find Viola and end her.
While the film itself looks pretty good, and the filmmakers do a nice job of visualizing the ability to hear thought, the story doesn't seem to know what it wants to say or focus on. Written by author Ness and screenwriter Christopher Ford ("Spider-Man Homecoming"), and based on Ness' first book in the series (which is titled "The Knife of Never Letting Go"), it feels like the years the film spent in post-production led to some extreme editing.
The film itself is packed with star power, but so many of the characters they play go nowhere. Cynthia Erivo shows up for a few scenes, Jonas just rides around acting like a douchebag, and Oyelowo is completely wasted as the out-of-control preacher.
This is too bad, because it's not a terrible film, it just wants to be a "Hunger Games" or even a "Maze Runner." Without any depth to the characters (besides the fact that both main protagonists are orphans), there's not much to hang a lantern on. In that, Holland carries the script as best he can, and Ridley plays a more stand-offish version of Rey from the "Star Wars" sequels.
Liman, who can certainly direct some whiz-bang action sequences, doesn't have much to work with except some chase scenes in the woods, and a raging river set piece. The film is entertaining, but it's fairly forgettable once the credits roll.
It's possible that, with barely any new movies in theaters, this might find an audience, which could elicit the sequels being made, but it's been so long I wonder if the studio or actors even care anymore.
From a chaotic production, to a chaotic final result, it seems as if this chaos will be walking into the distance, never to be heard of again.
"Chaos Walking" arrives on Digital / Digital 4K Ultra HD™ on May 14
Kevin Taft is a screenwriter/critic living in Los Angeles with an unnatural attachment to 'Star Wars' and the desire to be adopted by Steven Spielberg.
Comments on Facebook