The Shiny Shrimps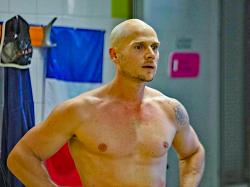 Let's get the elephant in the swimming trunks out of the way: The thing stopping "The Shiny Shrimps," a joyful underdog comedy about a gay water polo team, from becoming a hit is that it is in French and subtitled. Somewhere an eagle-eyed film exec is probably about to cash in on an American remake, with a known cast and a bigger budget. If that's too "To Wong Fu" for you, then get in first with what is bound to be the more genuine, charming, and generous version.

The Shiny Shrimps — so named because the tail is the best part of the shrimp to eat, and everything shiny is just better — are a failing and not fabulous group of swimming misfits. Despite reservations about pink washing, they jump at the chance to have rugged Olympic athlete Matthias Le Goff (Nicolas Gob) as their coach. Straight Le Goff, on the edge of retirement, is reluctantly trying to redeem himself after a homophobic rant at a pushy interviewer leads to his being ostracized from the French national swim team.

The film follows a fairly predictable path as the team pursues its journey to the Gay Games. (It is an underdog movie, after all.) Physical and psychological challenges are thrown down and then overcome. Personality flaws are sources of conflict and, then, acceptance. Life lessons are avoided and then forcibly learned. It manages, however, to balance the familiarity of the arc with the charm of character. The even-handed distribution of drama across all the actors and storylines of a fairly large cast is a deft balancing act. The transwoman completing her transition does not trump the inexperienced youth taking his first step out of the closet. The lonely activist is not overshadowed by the extroverted slut. The creep of a terminal cancer diagnosis squeezes out the tears, but does not snuff out the vibrancy of life.

The cast are great. The humanity of their emotions, the comic touches and simplicity of the script mean that reading the subtitles is effortless. While the characters definitely verge on stereotype, we recognize them with friendly smiles rather than yawns.

This is not a Disney movie. There are plenty of sex jokes, bare bums, and inter-community slurs that the script says "minority privilege" allows. The titanic grudge match between the tough Lumberjack Lesbians and the screechy Shiny Shrimps throws up a fair few gay taunts that are not supposed to pass the lips of straight people. But, as an underdog movie, it has a warm and suburbanly sentimental heart. The Hollywood version, if it comes, will have your mom watching it.
Roger Walker-Dack, a passionate cinephile, is a freelance writer, critic and broadcaster and the author/editor of three blogs. He divides his time between Miami Beach and Provincetown.
Comments on Facebook