End of the Century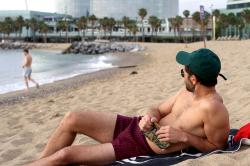 Writer-director Lucio Casto has created a film that takes a similar general form to Andrew Haigh's low-budget masterpiece "Weekend" and invests it with the sort of yearning and passion that infused both that film and "Brokeback Mountain." But where those films created an ache, "End of the Century" provokes a sense of tender sweetness — and invites not grief for things lost, or that never quite were, but rather a contemplation of things that might have been.

Ocho (Juan Barberini), a poet of around 40, has recently broken up with his life partner of twenty years. He's in Barcelona, feeling bored, when he catches sight of a handsome man wearing a "Kiss" T-shirt. Seeing the same man on the beach later that day, Ocho finds himself too shy to approach him — but when he sees the same man a third time from his balcony, he calls down and invites the man up.

Javi (Ramon Pujol) proves easy to be with; the two spark to an instant chemistry that outlasts their feverish hookup. As they drink and chat in the twilight, Javi reminds Ocho that they have met before, two decades earlier, when they were both still students... and just as Ocho was starting to come to terms with being gay. After a day of wandering the city together, the two students had a drunken one-night stand, after which Ocho stole away early the next morning.

Now, after a veritable lifetime apart, will the two of them have a second chance at love?

It's not that simple. Javi lives in Berlin with his husband and daughter; Ocho lives in New York City. Their chance meeting in Barcelona could be the start of something exciting and new, but only at the cost of creating enormous disruption in both their lives. Still, Ocho can't help but fantasize about what the last twenty years might have been like if he hadn't cut and run so abruptly after that first encounter.

Castro creates a dreamlike, unhurried mood in which his two leads can let their chemistry and connection flourish. What's better is the way in which he refuses to overwork the film, while letting it breathe and stretch in unexpected directions. The scenes set in the late 1990s don't bother in the least to try making the actors appear younger, as if in acknowledgment that memory often transposes our current selves onto episodes from the past. At the same time, the screenplay pokes gentle fun at the ways in which our attitudes and expectations can change over time, even without our noticing it.

"End of the Century" is a future favorite that's landed in the here and now: Don't miss it.
Kilian Melloy serves as EDGE Media Network's Assistant Arts Editor. He also reviews theater for WBUR. His professional memberships include the National Lesbian & Gay Journalists Association, the Boston Online Film Critics Association, The Gay and Lesbian Entertainment Critics Association, and the Boston Theater Critics Association's Elliot Norton Awards Committee.
Comments on Facebook