Top Story
An exhibition of art about Michael Jackson is opening in Germany amid fresh controversy over the singer's alleged abuse of children.
1 thru 10 of 47114 Stories
Special counsel Robert Mueller on Friday turned over his long-awaited final report on the contentious Russia investigation that has cast a dark shadow over Donald Trump's presidency.
Faith-based adoption agencies that are paid by the state of Michigan will no longer be able to turn away LGBT couples or individuals because of religious objection under a legal settlement announced Friday.
Barack Obama is feeling the love about the engagement of Jennifer Lopez and Alex Rodriguez.
Nevada legislators have introduced a bill that would ban the use of the so-called "gay panic defense" in cases of lethal anti-LGBTQ violence.
Months after Microsoft, Amazon, and Apple dropped an app that allegedly shills so-called "conversion therapy," Google still provides the app a platform — despite the practice having been outlawed for minors in a number of states.
A British revival of the stage version of "The Color Purple" was set to star Oluwaseyi Omooba - until anti-LGBTQ Facebook comments posted by the actor in 2014 came to light. She had been set to portray a woman who has a lesbian relationship.
So much for those worries about rising interest rates.
The Federal Reserve sent a stark message Wednesday: The economy is slowing. And it won't be raising interest rates anytime soon.
A transgender student says his Georgia high school removed him from this year's prom king ballot.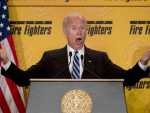 Joe Biden says he has "the most progressive record" of any Democrat running, or mulling a run, in 2020. But many progressive activists disagree.
1 thru 10 of 47114 Stories