1 thru 10 of 4027 Stories
Taking to Instagram earlier this week, pop star Justin Bieber shared a few photos with his fans, declaring his "style is impeccable."
A Kentucky print shop owner who refused to make a gay pride T-shirt argued before the Kentucky Supreme Court that he shouldn't be compelled to promote messages that go against his religious beliefs.
Kentucky Supreme Court justices are scheduled to hear oral arguments in a case over a company's refusal to print T-shirts for a gay-pride festival due to religious beliefs.
Out with the new and in with the old. As department stores watch their customers flock to second-hand stores, some are trying to bring them back by partnering with online resale sites.
Baggy Buttigieg? That is the nickname that designer Tom Ford could give Presidential candidate Pete Buttigieg (or Mayor Pete) after the candidate's team rejected his fashion advice.
Aidy Bryant has rolled out the start of a new plus-size fashion line named for her great aunt, but the "Saturday Night Live" star is starting small with just one dress in three blue styles, a solid, a stripe and a gingham.
Millions of glasses wearers 'regularly' have sex in their specs but have suffered embarrassing consequences as a result.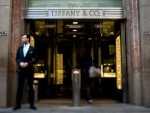 Tiffany & Co. is launching its first comprehensive jewelry collection for men in October as it seeks to diversify its traditional customer base.
Tapestry Inc.'s shares lost nearly a quarter of their value Thursday after the upscale handbag and fashion company said that it would have an unexpected drop in profit and revenue in the current quarter.
Over the past 100 years, visual artists probably deserve the most credit for thrift shopping's place in the cultural milieu.
1 thru 10 of 4027 Stories