South Florida Gay News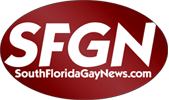 The South Florida Gay News.com celebrates the lives of South Floridians with daily news briefs and storied features, breaking news and lifestyle profiles. Check out their website at southfloridagaynews.com.
The winter holidays are right around the corner, which means Starbucks is back with their signature holiday cups. However, this year the company has taken a leap to be more inclusive featuring a same-sex couple in their commercial.
There's no question that Disney Channel's original series "Andi Mack" saw their ratings soar with their introduction of a gay character during the show's second season premiere. But that didn't stop Kenya from banning the show.
New website Church Clarity uses crowdsourcing to help the religious LGBT community find an inclusive church they can feel accepted in by "establishing a new standard for church policy disclosure."
According to a 2017 Ilga-Riwi global attitudes survey of 77 countries and territories, more than one in four people believe people who are in same sex relationships should be criminalized.
Tommy Tune has always stood out in a crowd. The gangly six-foot-six (and a half)-inch-tall kid couldn't be missed in the line-up of aspiring chorus boys at his first Broadway audition. Fortunately, for adoring fans, he wasn't.
After what was described by pastors and deacons of First Baptist Church of Christ in Macon, Georgia as an "exhausting journey," members of the congregation can now participate in same-sex marriage.
A State University of New York professor is in hot water after giving a controversial "female or shemale" quiz.
A television dating show in the United Kingdom is being accused of spreading ignorance on bisexuality.
On Nov. 7, First Minister of Scotland Nicola Sturgeon will apologize on behalf of the government to men who were convicted for gay sex under now-abolished laws.
Are American LGBT activists becoming more engaged in wider "social-justice" issues than they have been in many years? I am hearing more about this trend and applaud it strongly.