1 thru 10 of 1272 Stories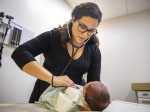 Doctors and public health experts warn of poor health and rising costs they say will come from sweeping Trump administration changes that would deny green cards to many immigrants who use Medicaid, as well as food stamps.
Ed Smart, the father of kidnapping survivor and activist Elizabeth Smart, has come out as gay.
Instead of taking a personal loan rejection personally, use it as motivation to build your credit and supplement your income so you win approval the next time you apply. Here's how to recover.
New numbers from Britains Office for National Statistics show that the trend of straights not marrying is increasing, even as more gays are saying "I Do."
School lunch menus already have Meatless Mondays and Taco Tuesdays. Now some may get Trade Mitigation Thursdays.
The Republican mayor of a small New Jersey town is coming under fire this week after vocalizing his opposition to a state law that requires middle schools and high schools to learn about LGBTQ history.
With a bit of planning, breakfast can be a great opportunity to get dairy, fiber, fruits and even vegetables into a child's diet. And it doesn't have to be complicated.
In a new profile piece for Men's Health, NFL superstar Tom Brady opened up about his family life, specifically about how one of his sons isn't into playing sports.
Kansas' child welfare agency has drafted guidelines urging foster parents to allow LGBTQ kids in their care to "express themselves as they see themselves," riling conservatives.
"Queer Eye" star Karamo Brown is calling out Mario Lopez for his controversial comments he recently made when speaking with conservative pendant Candice Owens on her YouTube show.
1 thru 10 of 1272 Stories