Top Story
A Kentucky print shop owner who refused to make a gay pride T-shirt argued before the Kentucky Supreme Court that he shouldn't be compelled to promote messages that go against...
1 thru 10 of 49370 Stories
From the economy to veterans and immigration, Trump routinely claims achievements of former president Barack Obama as fully his own or distorts the truth to undermine the Democrat's legacy. On problems uniquely his own, Trump deflects.
The Democratic presidential field is shrinking but not quickly enough to ward off the prospect of a long, bruising fight for the nomination.
A friend of the Dayton gunman who investigators say bought body armor and an ammunition magazine used in the shooting has lost a second attempt to get out of jail.
The U.S. government on Friday announced changes to the agency that runs the country's immigration courts, giving its director authority to weigh in and make appellate rulings on cases.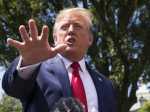 President Donald Trump raised some eyebrows earlier this week when he glanced heavenward and referred to himself as "the chosen one" to take on China. He took the comment back Friday.
Republicans for a half century have built a loyal following among white evangelical Christians. But Buttigieg is trying to demonstrate that there's a strong religiosity among Democrats, too.
None of these is legit, even though they were shared widely on social media. The Associated Press checked them out. Here are the real facts.
Under international pressure to contain fires sweeping parts of Brazil's Amazon, President Jair Bolsonaro on Friday authorized use of the military to battle the huge blazes while thousands took to the streets to protest his environmental policies.
A white Florida man who told detectives he had a "pet peeve" about illegal parking in handicapped spots was convicted late Friday of manslaughter for the fatal shooting of an unarmed black man outside a convenience store.
A federal appeals court on Friday reinstated a lawsuit filed by two Minnesota filmmakers who want the right to refuse to film same-sex weddings, saying that videos are a form of speech with constitutional protections.
1 thru 10 of 49370 Stories