Film Festival season is upon us, and with it the race for the year's major awards. Check out the favorites and the race for the gold!
Mati Diop has always lived in Paris but as a French-Senegalese woman whose family is from Dakar, she's long been acutely conscious of another, unlived existence for herself in Africa. And it's there that her life as a filmmaker has largely resided.
Look out Hollywood, Ricky Gervais is returning to host the Golden Globe Awards.
Annette Bening will receive AARP the Magazine's lifetime achievement honor at the Movies for Grownups Awards next year.
Inequality in the film industry got a spotlight at the Academy of Motion Picture Arts and Sciences' 11th annual Governors Awards, where Cherokee actor Wes Studi, Italian director Lina Wertmüller and director David Lynch received honorary Oscars.
Noah Baumbach's "Marriage Story," Lulu Wang's "The Farewell" and the Safdie brothers' "Uncut Gems" led the 29th annual Gotham Awards with three nominations apiece, including best feature.
Clint Eastwood's film "Richard Jewell" is having its world premiere at the AFI Fest in Los Angeles in November.
Get the snacks and a scorecard ready for the 2019 Emmy Awards.
This is the time of year when the cast of HBO's "Veep" would usually be shooting a new season. Now that the show is done, actor Tony Hale says they'll have to settle for getting together at the Emmy Awards.
NewFest, one of the world's most venerable and respected LGBTQ film festivals, has announced that they will kick off the festival's 31st edition with the New York premiere of Mike Doyle's Manhattan-set ensemble rom-com SELL BY.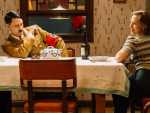 In his last dispatch, EDGE contributor C.J. Prince caps off his time at TIFF, including reviews for big films like People's Choice Award winner "Jojo Rabbit," Rian Johnson's whodunit "Knives Out," the seafaring horror film "The Lighthouse" and more.