Art Basel
Art Basel brings the international art world together, with leading galleries showing the works of over 4,000 artists in cities throughout the world. Check out the latest news about their events here.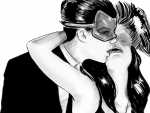 Snctm introduces its first-ever Masquerade party in Miami, expanding the members-only erotic brand's reach during premier art exhibit festival Art Basel Miami Beach, December 6th.
Art Basel Inside will bring together opinion leaders and entrepreneurs from across disciplines and industries for three days in Abu Dhabi in February 2020.