Top Story
The Museum of Modern Art's new $450 million, 47,000-square-foot expansion offers visitors more than much-needed elbow room. It emphasizes new juxtapositions of works to encour...
"Western Stars" was just the change of pace that Bruce Springsteen needed after baring his soul over the past few years.
The New York Times's popular "Modern Love" column is turned into an anthology series for Amazon, featuring big names like Anne Hathaway, Tina Fey, Dev Patel and more.
Placido Domingo will not receive a European cultural award this weekend in Vienna as previously announced.
The vast catalog of storied Japanese animation house Studio Ghibli is heading to the new HBO Max streaming service.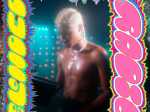 Frank Ocean's Blonded brand is set to host a queer club night called PrEP+, so named for the HIV prevention drugs, and to imagine what the 80s would have been like if PrEP had existed then.