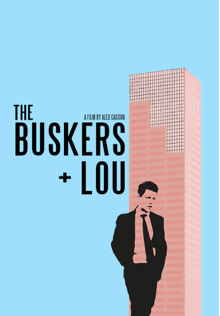 Random Media and Indieground Films proudly announce the DVD, Digital and VOD debut of veteran Writer/Director Alex Cassun's gritty and compelling story of redemption and self-discovery, THE BUSKERS AND LOU, beginning August 6, 2019. A scripted dramatic production that was also heavily improvised, it is the story of Lou, a young man seeking redemption, who is determined to build a new life for himself after returning to town after two years in prison. However when Lou rejoins the free-spirited 'buskers' he left behind on the streets of Portland, he must reconcile his desire for a 'mainstream' life, with his old friends' satisfaction with their freewheeling lives — ultimately realizing it will be impossible for him to fulfill his future ambitions if he doesn't first come to terms with his troubled past. A unique, dramatic coming-of-age indie about life-choices, THE BUSKERS AND LOU stars Marshall Walker Lee as Lou, Megan Carver as Jackie, Tyler Andre as Ben, Margaret Douglas as Heather, Robert Thrush as Steve and William Wilson as Jim.

Having grown up enjoying a freewheeling lifestyle surrounded by musicians and artists, Lou mysteriously disappears, only to return sometime later without explanation. Determined to embark on a straight-laced life, he takes his new 9-to-5 seriously until he runs into an old friend and finds himself torn between his new setup and his old existence. Struggling to conceal the truth of his time away, events begin to build towards 'The Big Dig' — a raucous party at which his old friends are set to dig up a time capsule Lou helped bury 10 years before, and Lou realizes it will impossible to fulfill his future ambitions if he doesn't first come to terms with his troubled past.

OFFICIAL FILM SITE:
https://indiegroundfilms.com/

FACEBOOK:
https://www.facebook.com/indiegroundfilms

TWITTER: :
https://https://twitter.com/buskersandlou

Enter to win!

Thanks for visiting EDGE!
Enter this contest
If you already have an account with EDGE, all you need to do is log in; we'll pull your address information from your account and simply ask you to verify it. If you do not yet have an account with us, register now! It's easy and free, and you'll never have to type in your personal information again. If you prefer to enter this information manually, you can use the manual entry link below.
Register
Click here for contest rules.
* Please be aware that creating multiple accounts for the same person will disqualify you.