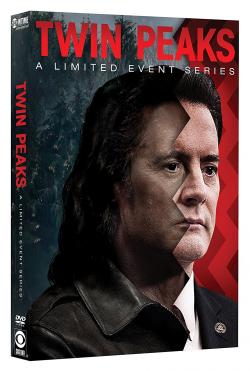 Hailed as "brilliant...an uncompromising work of art" (Entertainment Weekly), TWIN PEAKS: A LIMITED EVENT SERIES will arrive December 5 as multi-disc Blu-ray and DVD collections from Showtime Networks, CBS Home Entertainment and Paramount Home Media Distribution. Both collections include all eighteen (18) parts of the acclaimed SHOWTIME limited event series directed entirely by four-time Oscar® nominee David Lynch, plus over six (6) hours of special features which take fans behind the red curtain for an up-close, exclusive look at the making of "the best show on TV" (Vulture). Over eighty (80) minutes of additional behind-the-scenes content will be available exclusively on the Blu-ray release. Appearing on both the Blu-ray and DVD collections, IMPRESSIONS: A Journey Behind the Scenes of Twin Peaks is a series of ten (10), approximately thirty (30) minute films directed by longtime Lynch documentarian and friend Jason S.(Interview Project), who was given unparalleled access to document the making of the series. Each of these ten (10) films capture the triumphs and tribulations of a master director and true artist at work. The collections also include Phenomenon, a three-part featurette in which series cast and crew join artists, musicians and creative personalities to reflect on the enduring legacy of Twin Peaks; the Twin Peaks panel at San Diego Comic-Con® 2017, moderated by Damon Lindelof (The Leftovers, Lost) and featuring Lynch's on-camera introduction; series promos produced by Lynch for SHOWTIME, as well as one for in-cinema play; a grouping of all eighteen (18) different Rancho Rosa (the series' production company) logos from the top of each part; and a behind-the-scenes photo gallery. Lastly, through seamless branching, both Part 1 and 2, and 3 and 4 of the series are included individually, as well as in combined feature-length presentations, as they were originally shown on Showtime in the U.S. For fans who want the definitive version of TWIN PEAKS: A LIMITED EVENT SERIES, the Blu-ray, featuring deluxe packaging, will contain three additional behind-the-scenes films. The independent filmmaker, photographer and Twin Peaks' Ben Horne - Richard Beymer - directed two compelling featurettes, Behind the Red Curtain and I Had Bad Milk in Dehradun, that follow Lynch and company as they shoot in the Red Room. In A Very Lovely Dream: One Week in Twin Peaks, filmmaker Charles DeLauzirika, who has produced and directed numerous featurettes for previous Twin Peaks home entertainment products, documents a week on the set when the cast returned to Snoqualmie and North Bend locations from the original series 25 years later. Starring Golden Globe® winner Kyle MacLachlan (Blue Velvet, Dune), the SHOWTIME 18-part series picks up 25 years after the inhabitants of a quaint northwestern town were stunned by the shocking murder of their homecoming queen Laura Palmer. TWIN PEAKS is written and executive produced by series creators Mark Frost and David Lynch, and is executive produced by Sabrina S. Sutherland.

The special feature breakdown is as follows:

IMPRESSIONS: A Journey Behind the Scenes of Twin Peaks

The Man with the Grey Elevated Hair (29:40)
Tell it Martin (29:08)
Two Blue Balls (24:14)
The Number of Completion (29:17)
Bad Binoculars (28:08)
See You on the Other Side Dear Friend (30:00)
Do Not Pick Up Hitchhikers (26:44)
A Bloody Finger in Your Mouth (26:49)
The Polish Accountant (28:05)
A Pot of Boiling Oil (38:32)

Phenomenon

Part 1: Creation (4:40)
Part 2: Life After Death (4:50)
Part 3: Renaissance (4:50)
Behind-the-scenes Photo Gallery
Rancho Rosa Logos (2:25)
San Diego Comic-Con 2017 Twin Peaks Panel (61:26)

David Lynch Produced Promos

Piano (1:02)
Donut (:32)
Woods (:32)
People (:32)
Places (:32)
Albert (1:02)
In - cinema (1:32)

BLU-RAY EXCLUSIVE:

A Very Lovely Dream: One Week in Twin Peaks (27:09)
Behind the Red Curtain (29:17)
I Had Bad Milk in Dehradun (28:11)

Enter to win!

Thanks for visiting EDGE!
Enter this contest
If you already have an account with EDGE, all you need to do is log in; we'll pull your address information from your account and simply ask you to verify it. If you do not yet have an account with us, register now! It's easy and free, and you'll never have to type in your personal information again. If you prefer to enter this information manually, you can use the manual entry link below.
Register
Manual Entry
Click here for contest rules.
* Please be aware that creating multiple accounts for the same person will disqualify you.