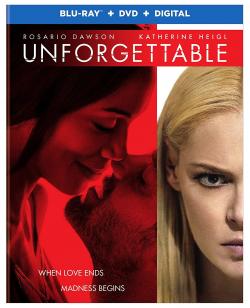 "Outlandishly entertaining"
-Katie Walsh, Los Angeles Times

Witness the madness begin when "Unforgettable" arrives onto Blu-ray Combo-Pack, DVD and Digital HD on July 25th. The dramatic thriller is the first film in the director's chair for veteran producer Denise Di Novi ("Crazy, Stupid, Love," "Focus"). Katherine Heigl ("27 Dresses," "Knocked Up"), Rosario Dawson (the "Sin City" films) and Geoff Stults (TV's "The Odd Couple") star in the film.

Tessa Connover (Heigl) is barely coping with the end of her marriage when her ex-husband, David (Stults), becomes happily engaged to Julia Banks (Dawson)-not only bringing Julia into the home they once shared but also into the life of their daughter, Lily. Trying to settle into her new life, Julia believes she has finally met the man of her dreams, the man who can help her put her own troubled past behind her. But Tessa's jealousy soon takes a pathological turn until she will stop at nothing to turn Julia's dream into her ultimate nightmare.

The main cast also includes film and television star Cheryl Ladd as Tessa's mother, Helen; Sarah Burns (HBO's "Big Little Lies") as Sarah; Whitney Cummings ("The Wedding Ringer") as Julia's best friend, Ali; Simon Kassianides (TV's "Agents of S.H.I.E.L.D.") as Michael Vargas; young actress Isabella Kai Rice ("True Blood") as Lily, and Robert Ray Wisdom (HBO's "Ballers") as Detective Pope.

"Unforgettable" will be available on Blu-ray for $29.98 on July 25th, and includes the film in high definition on Blu-ray disc, a DVD and a digital version of the movie in Digital HD with UltraViolet*. Fans can also own "Unforgettable" via purchase from digital retailers beginning July 18th.

Special Features:

· Reclaiming What's Yours: Making Unforgettable
· Director's Commentary
· Deleted Scene with Commentary
"Unforgettable" Standard Definition DVD contains the following special features:
· Director's Commentary

#UnforgettableMovie

https://www.facebook.com/UnforgettableTheMovie/

Enter to win!

Thanks for visiting EDGE!
Enter this contest
If you already have an account with EDGE, all you need to do is log in; we'll pull your address information from your account and simply ask you to verify it. If you do not yet have an account with us, register now! It's easy and free, and you'll never have to type in your personal information again. If you prefer to enter this information manually, you can use the manual entry link below.
Register
Manual Entry
Click here for contest rules.
* Please be aware that creating multiple accounts for the same person will disqualify you.