Catch the latest reports on your favorite (or not-so-favorite) celebrities at PopUps.
A photo of a statue of a shirtless Abraham Lincoln is going viral, thanks to Twitter users who are not holding back their thirst for the depiction of the 16th president of the United States.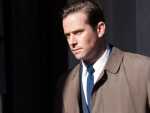 Rumors are spreading that Armie Hammer is in talks of taking on the role of Batman.
Troye Sivan is celebrating three years togehter with his boyfriend, model and photographer Jacob Bixenman.
Justin Bieber and his wife, model Hailey Bieber, are covering the March issue of Vogue and the "Sorry" singer opens up about his addictions, including sex.
Former U.S. Rep. Aaron Schock has been out of the spotlight for some time now but recently resurfaced on Instagram, sharing videos of an Elton John concert and a photo with Sam Smith.
Bad news for Britney Spears fans.
Actor Keiynan Lonsdale is ringing in 2019 by causing a stir on social media.
Madonna is responding to a viral photo that sparked rumors she got butt implants.
O-Town's Ashley Parker Angel topped EDGE's most-read PopUps feature of 2018. And the singer may rule 2019, too, with his latest Instagram post where he reflects on the past year.
Welcome to the fourth annual round up of EDGE's most-read celebrity PopUps feature where hunks dominated the top 5!