Pop Culturing is an ongoing weekly column that looks at new television, film and music and their place in the larger cultural conversation.
The New York Times's popular "Modern Love" column is turned into an anthology series for Amazon, featuring big names like Anne Hathaway, Tina Fey, Dev Patel and more.
Damon Lindelof's adaptation of the "Watchmen" comic series for HBO is a thoughtful and timely drama that's more about race, identity, and America's painful history than cape-wearing superheroes.
After a year off, "Mr. Robot" returns for its fourth and final season, reminding us why it's one of the best TV shows of the decade.
"The Good Place" returns for its fourth and final season, which continues to spin its wheels in lieu of heading towards a conclusion.
"The Politician" — a comedy that follows a high school student through the ebbs and flows of becoming student body president with his sights ultimately set on the White House — is Ryan Murphy's first project for Netflix.
With the third season of "The Deuce," HBO's New York City and porn history drama, starring Maggie Gyllenhaal and James Franco, comes to an end.
MTV's "Are You the One?" and "The Real World: Atlanta" are changing the game when it comes to LGBTQ representation. Here's why you should be watching.
"On Becoming a God in Central Florida," starring Kirsten Dunst and debuting on Showtime Sunday, is a twisted take on the American dream.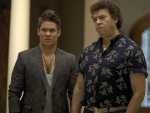 "The Righteous Gemstones," which airs Sunday on HBO and stars John Goodman, is Danny McBride's newest comedy about an over-the-top televangelist family.
In the second season of HBO's "Succession," which debuts Friday, the Roy family is at war; with each other and the world around them.