Cocktail Culture
Steve the Bartender offers 10 easy cocktails that are super simple to recreate at home when entertaining — cocktails that don't contain a lot of extravagant ingredients.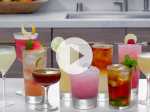 From the classic Cosmopolitan (which you can drink while watching "Sex and the City" reruns) to the gin-based Floridora, here are 10 easy-to-make summer cocktails.
The martini's heyday began almost a century ago, but today's bartenders have some innovative takes on the classic cocktail.
One in three wine drinkers don't know you can drink red chilled, according to research.
Red or white? New research revealed your choice of wine can say a lot about your personality.
To celebrate fall's return, Candela Mamajuana spiced rum shares five recipes to keep you toasty as the temperatures drop.
A fifth of UK drinkers are now opting for cocktails over beer and wine, according to a poll.
There's no better time than sweltering summer to imbibe in a Polynesian-inspired cocktail. Fortunately, there are a few hotspots around the country that are shaking up exotic libations.
The 18th Room, a new speakeasy by Dave Oz, has launched new eco-friendly "No Impact" cocktails by acclaimed barman Joseph Boroski, from Clarified Bloody Marys to fat-washed Banana Daiquiris.
Does your midsummer cocktail repertoire need a reboot? Here are three refreshing summer cocktails that feature rosé wine.