Top Story
The 25th James Bond movie and Daniel Craig's fifth and final installment as 007 is heading home to Jamaica.
1 thru 10 of 1872 Stories
While "17 Border Crossings" doesn't shy away from the politics of borders, it's a very personal, human take on the subject that invites us to contemplate what borders stand for, what they tell us about ourselves, and how and why they separate people.
Playwright Lucas Hnath reimagines the first month of the 2008 Democratic primary in his new play, "Hillary and Clinton."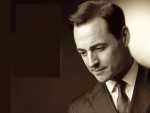 Tony nominated actor Max Von Essen feels a strong attachment to the songs from the Great American Songbook & classic Hollywood musicals, and has channeled it into his first CD, "Call Me Old Fashioned." EDGE spoke to Von Essen about his CD & his career.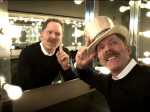 Manhattan-based psychoanalyst and ex-Broadway chorus boy Dr. Bradley Jones returns to a NYC stage on April 30th 2019 with a performance of "Dr. Bradley's Fabulous Functional Narcissism... The Psychoanalytic Odyssey of a Once Glorified Chorus Boy."
American Repertory Theater (A.R.T.), under the leadership of Terrie and Bradley Bloom Artistic Director Diane Paulus and Executive Producer Diane Borger, is pleased to announce its 2019/20 Season programming.
"Miracle in Rwanda" helps us better understand how one woman survived, and also how a painful struggle with her faith led her to find some inner healing through the forgiveness of her oppressors.
The campy "Beach Blanket Babylon" musical revue that has been a must-see for San Francisco tourists for 45 years is coming to an end.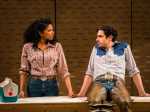 Like a high school reunion where you reacquaint yourself with old flings and someone actually looks better than they did before, the nipped and tucked "Oklahoma!" reboot deserves a page among The Best Plastic (Theater) Surgeons in America.
As another season on Broadway draws to a big finish, the opening of "Hadestown" marks a milestone of sorts — it's the only new musical directed by a woman, Tony Award-nominee Rachel Chavkin.
Two dozen nominations of outstanding actors, directors, designers and ensembles were announced today by The Boston Theater Critics Association (BTCA), with winners to be revealed at the 37th Annual Elliot Norton Awards on May 20.
1 thru 10 of 1872 Stories