Markie In Milwaukee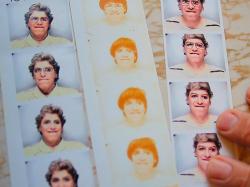 Filmmaker Matt Kliegman's compelling debut documentary makes for very uncomfortable viewing, especially for those of us who have difficulties with Christian doctrine. This is the story of 50-something-year-old conservative fundamental evangelist Mark Wentzel, who transitioned into Markie Ann - only to later transition back after (he claims) God spoke with him. 

Mark is seven feet tall and weighs 400 lbs., which makes him stand out in any situation either male or female.  When Kliegman starts this story, we see Markie at the height of her unhappiness, having been dismissed by her church and becoming totally estranged from his ex-wife and three grown children. Kliegman, however, already has a wealth of archival footage, so he can show the time when Markie Ann first accepts her true identity and experiences elation. He even goes back further, to when Mark was a licensed preacher and Sunday school teacher of the fire-and-brimstone variety.

Asides from his/her conservatism and traditional values, Mark/Markie is socially awkward, which doesn't help him/her fit in many situations. His/Her job as a TSA inspector is hardly a means to encourage friendships.

The decision to halt the transition comes a week after the urological surgeon has greenlit gender reassignment surgery, which is the final point of no return. It sees Mark going to city hall and undoing all of the legal changes he has done so far, and, as he says, officially marking the death of Markie Ann.

His church welcomes the suit-clad Mark back with open arms, and he finally gets an invite to meet his two grandchildren for the first time. He puts on a brave face and reiterates that his reversal wasn't just about accepting his original gender as a reality, but also a matter of finding his way back to his God.

However, despite the optimistic spin on which Kliegman ends this excellent, but disturbing, documentary, looking at Mark's face it's clear to see he is not 100% convinced.
Roger Walker-Dack, a passionate cinephile, is a freelance writer, critic and broadcaster and the author/editor of three blogs. He divides his time between Miami Beach and Provincetown.
Comments on Facebook