PopUps: Is Armie Hammer Going to be Your New Batman?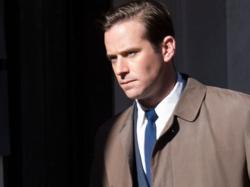 Rumors are spreading that Armie Hammer is in talks of taking on the role of Batman.

Not long after Ben Affleck confirmed he's no longer going to play Bruce Wayne, Revenge of the Fans is reporting that Hammer may fill in as the superhero. The "Call Me By Your Name" star was set to play Batman in filmmaker George Millers defunct 2007 project "Justice League: Mortal."

Revenge of the Fans reports Hammer, 32, is in "final negations" to star in "The Batman," which will be directed by Matt Reeves and set to hit theaters on June 25, 2021.

Reeves previously stated that his take on the iconic superhero story will be a noir-driven story and not an origin story.

This story is part of our special report titled "PopUps." Want to read more? Here's the full list.
Comments on Facebook