PopUps: Troye Sivan Celebrates Anniversary with Boyfriend, Nixes Breakup Rumors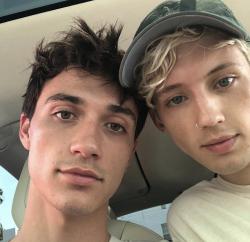 Troye Sivan is celebrating three years together with his boyfriend, model, and photographer Jacob Bixenman.

Taking to Instagram this week, the "Bloom" singer shared a black-and-white photo of himself and Bixenman, captioning the snap, "3 years today luckiest boy alive. Love you lots."





Fans began to speculate if the duo broke up last month after Sivan shared a photo of himself embracing musician Lauv, with whom he collaborated for a song. The pic shows Sivan holding Lauv's arm and leaning his head on his shoulder.





That's apparently not the case as Sivan and Bixenman are still going strong. Back in November, Sivan shared a photo of himself with Bixenman and the Internet lost it. In a September 2018 interview with Attitude magazine, Sivan opened up about his relationship with Bixenman. The duo started dating in 2016 and moved in together in Los Angeles.

"As far as labels go, it's pretty much since the day that I met him. We have seen each other almost every day unless I've been traveling or something," the singer said. "It's kind of like having your best friend around all the time, which is really nice. I think LA can get lonely and you sort of have to build a life for yourself."

He added: "He's got like a kind of energy about him, a magnetic sort of energy. I think people can't help but love him. He's just got one of those personalities that draw people in."

This story is part of our special report titled "PopUps." Want to read more? Here's the full list.
Comments on Facebook